About Euphoria - Heerenveen & Leeuwarden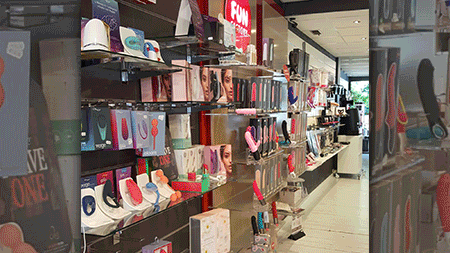 Corona virus
Both stores are open regularly. Sick employees stay at home. Door handles, pin devices, etc. are also cleaned extra often. We would like to ask you to pin as much as possible. Of course you can also just pay cash.
If there are different opening hours due to the measures or too many sniffing employees, you can read that here.
Status: Adjusted opening hours on Thursday and Friday evening! Open until 8:00 PM.
Euphoria in Heerenveen and Leeuwarden is the most accessible and low-threshold sex shop in the Netherlands.
You can find erotic shop Euphoria at the Lindegracht 43 in Heerenveen. In our neat sex shop both women and men can shop exciting as well ass relaxing erotic products, gifts & advice. Our range includes: sexy lingerie, dildos, vibrators, toys, massage oil, lubricant, condoms and many other intimate products that will add something amazing to your sex life!
The store is very accessible thanks to the choice for an open and light appearance: everyone (male / female, young / old) is welcome to step in and there is always free coffee and tea for our customers.
Thanks to our webshop you do not have to visit Heerenveen in order to benefit from the best offer and good service. You can just as easily shop the best sex toys, lingerie and more from your armchair. Do you have any questions or need advice? Feel free to contact us. At Euphoria we also like to help you to make a good choice online.
Opening hours Euphoria (Heerenveen & Leeuwarden)
Mo: 13:00-18:00
Tu: 11:00-18:00
We: 11:00-18:00
Th: 11:00-21:00
Fr: 11:00-18:00 (Leeuwarden 11:00-21:00)
Sa: 11:00-18:00
Su: closed