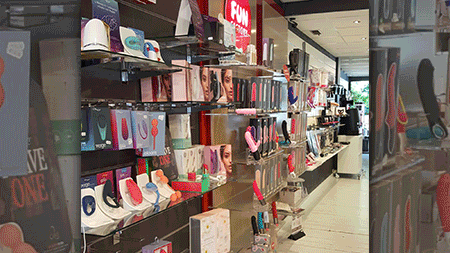 At Euphoria we are happy to help you with all your questions about our erotic products, delivery times, special orders and much more. Even if you are a little nervous and want to get some information first, we are glad to help you. You can contact us in many ways and you may ask us everything.
Address & phone
Euphoria (store)
Lindegracht 43
8441GK Heerenveen, the Netherlands
Phone: +31 513 75 08 25 (opening hours)
Whatsapp: +316 14 15 98 22
E-mail: [email protected]
Or contact us through Facebook, Twitter or Instagram.
Opening hours Euphoria
| | |
| --- | --- |
| Monday: | 13:00 - 18:00 |
| Tuesday: | 11:00 - 18:00 |
| Wednesday: | 11:00 - 18:00 |
| Thursday: | 11:00 - 21:00 |
| Friday: | 11:00 - 18:00 |
| Saturday: | 11:00 - 17:00 |
| Normal sunday: | closed |
FAQ
Shipping & delivery
1. Can I pick up my order at your store?
Yes, that's possible. After filling in your own name and address details, choose 'Pick up from our store (Heerenveen)'. We will notify you as soon as all items are ready for you at the checkout. This service will not cost you anything.
You can pay your order online immediately, but you can also pay in the store. After choosing Pickup in our store, the Pay on pickup option also appears. The choice is yours.
2. Will my order be delivered discretely?
Yes. We deliver all orders in an unrecognizable brown box. The contents are never visible or mentioned on the outside, nor is our company name.
3. When will I receive my order?
We always do our best to deliver your order to you as soon as possible. Look for the expected delivery times on our Shipping & Delivery page
4. Can I choose when my order is delivered?
This option is only available for addresses in the Netherlands. In the checkout process, you can choose 'As soon as possible' or pick a specific day. This information is retrieved in real time from PostNL. The options may differ for each address.
With foreign shipments to other countries than The Netherlands, the shipping time differs from country to country and therefore we can not guarantee that your order will arrive on a specific day. We will send your order as soon as possible.
5. I prefer not to have my package delivered at home, is that possible?
In the Netherlands, this is possible if you choose as the shipping method 'Pick up at a PostNL location' or 'Pick up at our store'. During the ordering process you have to enter your own address details first. The preferred shipping method can be chosen further on in your ordering process. Pick up at a PostNL location in your area: This is easy and also discreet. If you want nobody at home to know that you have ordered something.
Unfortunately, we can not offer this service for foreign shipments.
6. Will my package be delivered at the neighbors?
No, your package is always sent with the Only home address label*. This means that the PostNL delivery person can only deliver your order to the address indicated and never to the neighbors. Most people do not want their neighbors too curious to approve their new vibrator, dildo or sexy lingerie set.
* We can not offer this service for foreign shipments
7. What should I do if something goes wrong?
Don't wait, but contact us immediately if something seems to go wrong or something has gone wrong. Always include your order number and / or name & address details. In the event of damage on delivery, please contact us as soon as possible, but at least within 48 hours of delivery. And add some photos.
Our experience is that deliveries seldom go wrong, but when they do it's a disappointment for all parties and of course mainly for you as a customer. We will make every effort to identify, correct and resolve the error.
The risk of damage / loss during transport is for Euphoria. If something goes wrong we will do everything to get the right products in the right place.
Stock and delivery times
1. Are all products in stock in your store?
Yes, they are*. We deliver all products from our own store stock. You can see on every product page whether the product is in stock. On large computer screens you can see "In stock in our store" to the right of the product image. On smaller screens and mobile phones this is shown above the product photo on the product page.
Do you want to buy a specific product in our store? Then please order online and choose 'Pick up in our store'. You can pay directly, but also choose 'Pay at pickup'. This will prevent disappointments if the article is suddenly sold to someone else (online or in the store). We will send you a message as soon as your order is ready for you at the checkout.
* If an item is 'temporarily sold out' on the webshop, it is currently not in stock in the store. Our inventory administration is correct in 99% of cases. You can always contact us if you have any questions.
2. What can I do if a product is not in stock?
Products that are not in stock can not be added to your shopping basket. That is our choice to avoid misunderstandings, long delivery times and many extra packages / costs. Products that are not in stock bring a lot of extra work, delivery time and costs.
What you can always do is contact us. For example, we can create a special order for you or inform you when the item is back in stock. Please state the product title, article number or copy the url at your contact moment.
3. I am looking for a very specific article but can't find it at Euphoria, can you order it for me?
Yes, most likely. We do this more often at Euphoria. We can order from almost all major suppliers of erotic products. We can therefore get a lot of products. Contact us and indicate as clearly as possible which product you are looking for. If possible with a name, brand and / or link. We are happy to help you in your search!
About our store
1. Location & Accessibility
You can find the Euphoria store at Lindegracht 43 in Heerenveen. A well-connected place in the center of Heerenveen.
Mobility scooters and wheelchairs can easily roll into our store. There are no stairs or thresholds within the store. There is a threshold plate at the wide front door. We do not have an automatic door, but we do have a doorbell for the disabled. Just ring and we're happy to help you with the door.
2. Parking
Park your car in the Geerts Willigen parking garage. From the parking garage it is a 1-2 minute walk to Euphoria. You park there for the same low rate as on the street.

Paid parking on the street: for example in the Nieuwstraat, the Heideburen or on the Kerkstraat.
If you come from the Geerts Willigen parking garage, walk through the Schoolsteeg (next to the Wok Oriental) towards the Lindegracht. Turn left after the alley and after about 50 meters you will see Euphoria on your left hand.
The nearest free parking place are P2 at the Abe Lenstra Stadium (5 minutes walk) or at the McDonalds Heerenveen. From there it is a 10-15 minute walk to Euphoria.
3. Public Transport
Euphoria is easily accessible by public transport: the bus and train station are a 10-minute walk away. Closest is the bus stop at the city hall (Gemeentehuis). From there you reach Euphoria with a 4 minute walk.
4. Is there an age limit for your store & products?
No. Sexuality has no fixed age. There is also no legal age limit on most* erotic products. At Euphoria we believe that everyone who has a serious interest in our products or store is most welcome in our store and on our website. Are you interested in our products or would you like to look around, ask for advice or buy something? Then you are most welcome!
Our website is classified as an erotic website. If parents / guardians have a special filter on their browser, this website should be blocked. Euphoria is not responsible for that. Do you have questions about our policy on this? You may always contact us.
*With the exception of 2 categories: bondage articles and libido enhancers. For these categories, it is forbidden for people younger than 18 years old to purchase. These article groups require a higher sense of responsibility not yet available to all teenagers.
5. Your first time visiting an erotic store?
Have you never been to an erotic shop before? But are you curious, looking for advice or a product? Maybe you're a little nervous as well. Even then Euphoria is definitely your best choice. Whether you just want to look inside or want advice: at Euphoria we are always friendly and we take the time for you.
After entering the store you'll soon notice that it's not so exciting in our store, but that there is a relaxed atmosphere. We always let our customers look around quietly and maybe offer you a cup of free coffee or tea. So have a look around or just ask your question at an employee. If it helps, you may also say that it's your first visit to an erotic store.
Over time, we will ask all customers if we can help with anything. Whether you're looking for a present, an anal toy or a vibrator: We are happy to help you with all your questions and you can always ask us anything.
Our customers are actually everyone: young & old, man & woman, couples & singles. And of all these groups more than once people come in for the first time. Fantastic! Everyone can be proud of his / her sexuality and if you step out the door, well advised and / or with beautiful products: be happy with yourself!
6. 'What kind of people' come to Euphoria?
A frequently asked question is: "What kind of people come into your store?"
We can be short and powerful about this: everyone! From young to old, men and women, experienced and inexperienced. Everyone has their own sexuality and almost everyone likes to discover them. Sometimes alone, sometimes together. Euphoria has the best and best products in house and we are happy to help you make the right choices.
So you are also very welcome at Euphoria!
7. Who works at Euphoria?
At Euphoria you can meet several people in the store and on the webshop. At the moment they are: Mark, Diana and Desirée. All employees have extensive knowledge and do not fear any question. Thanks to the right product knowledge and understanding of the male and female body, they can all advise you! Therefore, never hesitate to ask questions, we are happy to answer them all. We even like that!
Contact, suggestions and complaints
1. I have a tip, suggestion, recommendation and the like.
Suggestions to improve our company and services are always welcome. At the top of this page you will find our contact details. Contact us through a channel of your choice and we will see if we can improve (in the future).
2. I have a complaint, how to proceed?
We advise you to first report complaints to us by sending an e-mail to [email protected]
If this doesn't lead to a solution, then it is possible to register your dispute for mediation via Stichting WebwinkelKeur. This independent foundation provides our quality mark and for mediation if we can not come out together.
For consumers in the EU it is also possible to report complaints via the ODR platform of the European Commission. This is only possible if your complaint has not yet been dealt with elsewhere.
3. How can I contact you?
You can decide that yourself. We are very easily accessible in many ways. Choose what method suits you best or visit our store in Heerenveen. At the top of this page are all possible ways to contact us!